In acknowledgement of Men's Health Awareness this year running through 14th – 20th June, 2021 we review the importance of men's health and talk about the "CAN DO CHALLENGE" in the UK from menshealthforum.org.uk.
Why Men's Health Matters?
Men's health is a broad and important topic in itself, over the past 5 years in the UK from 2016 – 2021 the importance of "men's mental health" has been a growing topic.
Over the past 5 years the search interest has increased from an average of 5 index points to now an average of 60 equating, to a growth of interest in the UK of over 1100%.
When we look at this trend globally we see a similar picture, but the trend is slowly bubbling as early as 2009.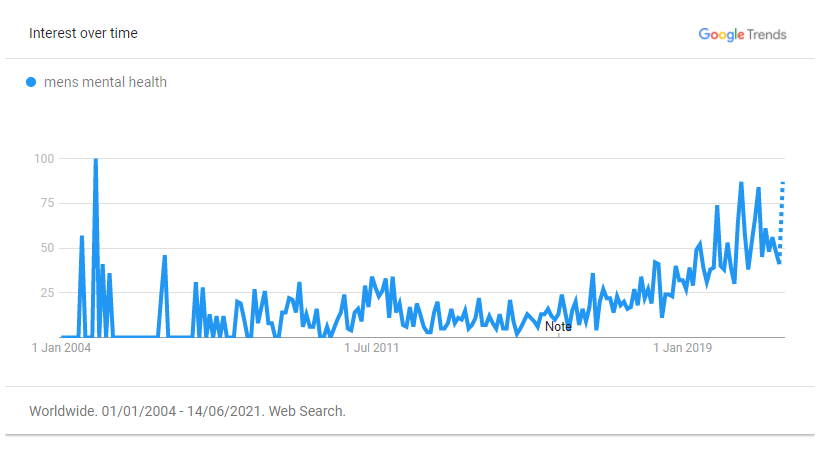 The search trends on men's mental health since 2004 is undeniable and has gone from strength to strength.
According to a report by menshealthforum.org.uk1 the top factors that impact men's health and well-being are:
Heart disease and cancer: Men are more likely to die of this than women.
Obesity: 67% of men are overweight or obese.
Diabetes: Middle-aged men are twice as likely to have diabetes as women.
Suicide: 80% of suicides are men.
Lifestyle: In terms of smoking, eating too much salt, red meats and drinking too much alcohol, men generally outperform women.
9 Quick Facts about Men's Health
Thank you to menshealthforum.org.uk2 for the research and numbers:
On average men die 3.7 years earlier than women
Men tend to go to the doctors less than women
According to the Sleep Foundation, men sleep approximately 20 minutes less than women
Men are nearly twice as likely as women to die prematurely from diabetes
One in five men die before they're old enough to retire
One in eight men are reported to have mental health problems
Campaigners such as CALM have highlighted that suicide is the biggest cause of death for men under 45
Men in unskilled work are three times more likely to act on suicidal thoughts than those in senior management positions
The richest men live on average 10 years longer than the least well-off men
How does our Health Impact Relationships?
Relationships play one of the most crucial aspects of our daily lives. It plays a pivotal part in how we feel (mentally) and act (physically), thus the general health of a relationship.
In a previous post, Dom discussed the importance of friendships and if "Should Your Partner be Your Best Friend", the benefits of this is huge. Having someone to support you, when you're down and giving you encouragement at your lowest is uplifting and motivational.
According to mentalhealth.org.uk3:
"People who are more socially connected to family, friends, or their community are happier, physically healthier and live longer, with fewer mental health problems than people who are less well connected. "
Research has shown that those in a stable relationship have both mental and physical health benefits, where they're just not healthier but live longer too! Though that being said, those that were found in a negative / harmful relationship, found that their mental and physical health were far worse if they had not been in a relationship in the first place.
Have a read of our post and take the quiz "are you ready for a serious relationship", it may just help you a little bit further in the importance of "mental well-being".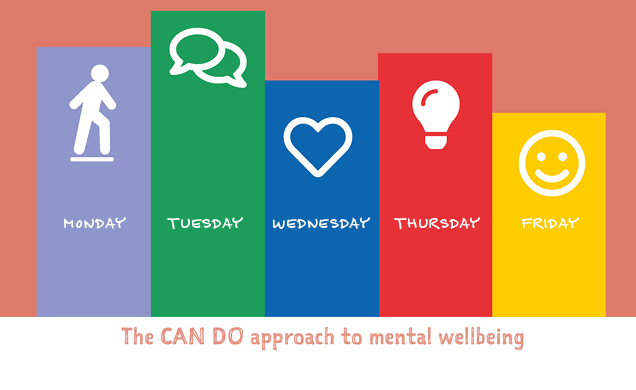 What is the Men's Health "Can Do Challenge?"
Every year for Men's health they organise a series of challenges to help raise awareness of the event. This year the campaign is called the "Can Do Challenge"4, even if you're not from the UK you can still try this challenge; aimed at improving your mental well-being whilst helping a charitable cause.
The challenge is spread across five days across the week with each day a different challenge to help us feel better, and be better!
The five different challenges each day are:
Connect – connect with other people – #connectmonday

Examples: phone your family, organise a group catch-up with friends or grab a morning coffee with a work colleague

Active – exercise a bit, and get that body moving – #activetuesday

Examples: go for a jog, do some yoga or any form of exercise to get the heart pumping

Notice – be present in the moment and notice what's around you – #noticewednesday

Examples: go out for a walk without your phone, try eating your meals away from the computer desk or try reflecting upon the day and thinking about what went well

Discover – learn something new – #discoverthursday

Examples: learn a new language, basic home repair or a software / computer programme

Offer (or give) – do something for someone else – #offerfriday

Examples: buy a colleague a coffee, treat someone to a nice meal or offer to lend a hand to family or friends
Have a go and give it a try!
What if I am Suffering from Mental Health?
Firstly, don't worry and understand it's perfectly normal.
Here are a list of services and organisations:
Employee Assistance Programme: If you're in full time employment your company might offer a service that helps your mental health, worth speaking to your HR department.
Rethink Mental Illness: Gives people support and information on mental health treatment and care to employment rights.
MIND: Offers people help, support and consultancy in raising awareness and promoting the importance of mental health.
Samaritans: Able to provide you with 24 hours a day confidential emotional support. For people who are experiencing feelings of distress, despair or are having suicidal feelings.
CALM: Offering support to those who are feeling suicidal.
Whatever you do and how you feel, don't ever think you're alone and have nobody to turn to. With the growing trend and the amount of third party organisations now available, you know that there is right support and help for you!
If you're unsure about using these services, don't feel:
Ashamed
Alone
Embarrassed
Hopeless
As we have highlighted, the importance of mental health is a growing trend and you're not alone!
What can I do Next to Improve my Mental Health?
Firstly, understand the severity of the problem, if you feel that by talking to somebody will help, seek a friend/family member immediately for them to lend an ear. Alternatively, look up one of the services and organisations mentioned above as to how they can support you.
Secondly, if you feel like you want to work on this yourself, you might feel like a "Relationship Spring Cleaning" is in order. The process of Spring Cleaning your relationship will help you to clean out and reprioritise what's not working for you in your life anymore.
REMEMBER!
Your mental health is of utmost importance and should always be taken seriously.
I hope you have enjoyed reading this post, and hope that you attempt and enjoy the #CANDO challenge – all the best!
6 Motivational GIFs for Your Happiness
If you're still feeling a bit down here're 6 motivational GIFs I found from giphy.com5 – I hope they help 🙂
Being sad is a waste of time.
You can't always control life.
We'll work through this together.
Do you need hug?
I'll never give up.
---
References: